POKEMON OMEGA RUBY AND ALPHA SAPPHIRE GAMES CONFIRMED!!
AND FOR NOVEMBER 2014!!!!
Here's the official video from Pokemon-
SO Hoenn* has been officially confirmed! Pokemon fans are raving and of course, jumping to many conclusions about the games already- found something interesting on the web as-well regarding the games: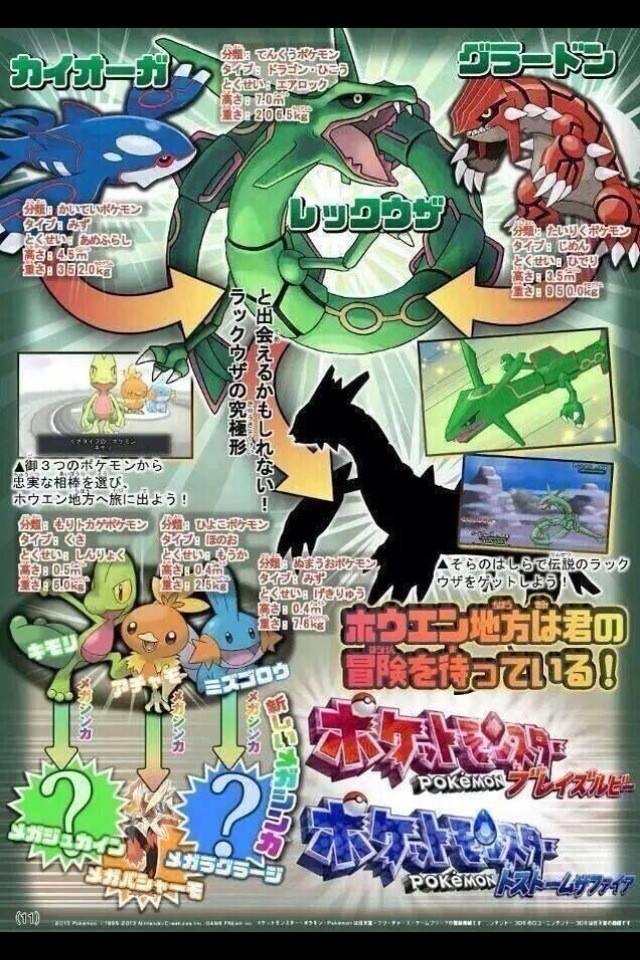 I posted here a scan of a japanese poster that I'm going to be taking as authentic-- I'm pretty sure it is.
According to this poster, I'm going to guess that:
1. There will be mega-evolutions for the rest of the Hoenn starters (that much is obvious)
2. We (again, obvious) see the return of Groudon, Kyogre and Rayquaza
3. A little catch- see the arrows pointing from Groudon and Kyogre to Rayquaza in the middle of them? and the black silhouette below them? If you look closely at the shape of the silhouette, you can see that its neck is long like Rayquaza, the head looks like Groudons- and the arms similar as-well, and there's a little smidget of Kyogres tail to be seen under the picture on the right ride. This silhouette has GOT to be a fusion of the THREE pokemon, which means we may be seeing a comeback for those DNA splicers introduced in gen V~~~
Also- little mention on the official announcement video- I say Hoenn* remake because they mention a new world. I think it is... likely that they could either be using a trick on words to make us jump to these conclusions (where it actually IS a straight up remake/sequal in Hoenn) OR these starters and legendaries could just be the important pokemon in yet ANOTHER region of the pokemon world.
ANYWAYS that's it for my spiel~ I'll attempt to keep the up-dates coming on here even though that might be useless xD
I know not a heck of a lot of us come here often anymore, and that all of you who care or don't live under a rock know this information already, but I thought this was something that needed to be here nonetheless~~~

The Illustrious Warden





Post Count :

1507


Age :

23


Shaycoins :

5932


Registration date :

2009-03-14



Same- I'm so torn too because I love Kyogre and want to put it in my team but I love Swampert and I don't want two water types on my team
Sceptile is my second favourite so I'm probably going to go for Treecko. I THINK we should expect there to be mega evolutions for the starters so I'll decide after seeing those xD I can't wait to see what they do with this game @_@

---
Permissions in this forum:
You
cannot
reply to topics in this forum